Detailed program

In this conference, we would like to begin each day with a plenary meeting in the Auditorium. The first plenary session will be a welcome to all of you who are attending the 9th ECPA and will also be used to provide you with practical information about the conference and the city. The rest of the plenary sessions will be for several keynote speakers to introduce specific topics within the scope of the conference. After the plenary sessions, there will be time to meet and discuss with other colleagues and visit the poster exhibition before the technical sessions start.
In the conference bag we will provide you with a booklet with the detailed program together with information on the conference. Click the button to download it.


Hover the mouse over the session icons to display a detailed schedule.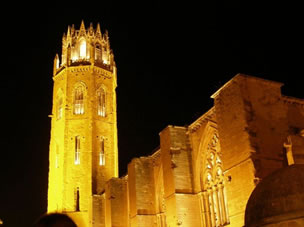 Although conference registration and the first plenary session will take place on Monday morning (July 8th), we would like to welcome you on Sunday evening (July 7th). The best place to welcome our guests in Lleida is our
old cathedral (la Seu Vella)
and the neighboring Castle of the King (
la Suda
). We are very proud of them and thus we want to introduce them to you from the very beginning since they will be guarding us for all the conference from the top of the hill where they were built in the XIIIth and XIIth centuries, respectively. It will be our great pleasure to arrange a guided evening tour especially for ECPA attendees and a cold buffet while you enjoy meeting your colleagues and admire the view of the town and its surroundings.
If you have not done it yet, please fill in a 30-second questionnaire in order to let us know if you are attending the welcome reception
.
You can find more information on the monuments at their official site
www.turoseuvella.cat
. For this reason,
we need you to plan your journeys so that we could all meet together at 19:30h at the town center, close to most of the hotels.
In subsequent updates of the website, we will indicate activities that you do on your own prior to the Welcome Reception.


This is the view you can see from the Old Cathedral:
LLEIDA desde la Seu Vella
in
España